The Holy Month of
Ramadan
is upon us. For a non-Muslim living in a Muslim country like the
United Arab Emirates
, this means making some lifestyle adjustments. To make this easier, the first thing a non-Muslim must do is understand the practices and rituals of Ramadan. The second thing is to find a way to thrive during Ramadan.
Ramadan is observed in the 9th month of the Muslim calendar, the month the
Qur'an
was revealed to the
Prophet Mohammed
(Peace Be Upon Him). Its exact timing is determined by the lunar cycle. During this holy month Muslims around the world abstain from eating, drinking, smoking, negative thoughts and deeds as well as having sexual relations. During these long hot summer days this can sometimes mean up to 15 hours. Patience and self –restraint are blessed during this holy month. It is a time that Muslims humble themselves before God asking for forgiveness and giving thanks for their blessings.
In every religion, the depth of ritual observances and prayer life can vary with believers. If you are a Christian, Muslim, Jew or Hindu it is your choice how much and to what degree you observe these rituals. I do not know how many Muslims practice everything during Ramadan, but it does appear to me that the Muslims I associate with observe most of the formalities.
So, what is the day like for a pious Muslim during Ramadan?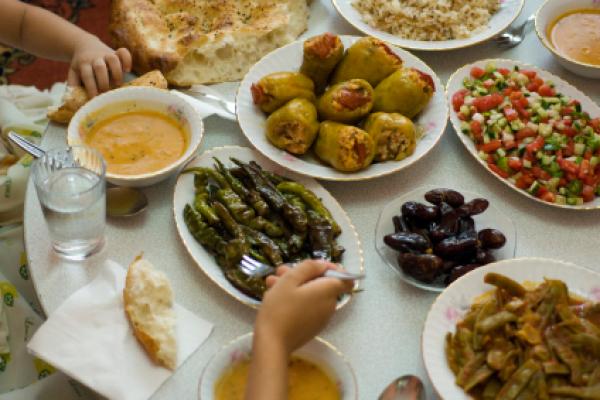 Before dawn, Muslims rise to eat the
Suhoor,
a meal taken while it is still dark before the fast begins. This can mean an entire full course meal with complete Suhoor meals offered by many restaurants. At about one hour and twenty minutes before sunrise, Muslims perform the first prayer of the day – the
Fajr
which means dawn
.
Some people may go back to bed rising in time to begin their normal work day.
At noon, Muslims pray the
Zuhr
(midday) and later in the afternoon the
Asr
(afternoon)
.
They will fast all day – no food or water – until sunset when they pray the
Maghrib
(dusk)
. Iftar
is the meal taken at sunset to break the fast. It traditionally begins with a few dates and water. In the evening, Muslims will pray the
Isha
night prayer, and some will go to the mosques for
Taraweeh,
special evening prayers. The Suhoor and the Iftar are considered very meaningful times to celebrate with family and friends.
There are other Ramadan practices intended to purify the soul. A common goal for many Muslims is to read the entire Qur'an, one chapter at a time, during the month of Ramadan. During this time Muslims strive to forgive others and repair strained relationships.
A great example of doing good during Ramadan. This
store in Dubai offers free food for those with no
money or who are unemployed.
As Ramadan is a time of alms giving, many Muslims will send plates of food to their neighbors and make a special point of inviting friends and family to their homes to break the fast together.
Zakat
(charity) is one of the five pillars of Islam and especially important during Ramadan with many charity projects in the offering. Zakat can mean giving money to the poor or feeding the hungry.
Without a doubt this regime is strenuous and takes a good amount of fortitude to accomplish.
For non-Muslims, Ramadan brings some restraints on the daily schedule and shifting to nocturnal time frame for many activities. Most restaurants are closed until the evening time when the fast is broken. You must avoid eating, drinking or smoking in public places or in view of Muslims.

Non-Muslims must also practice a lot of patience as nerves can become frayed from the stress of fasting. And, we are cautioned to be careful driving as reaction times of people who are fasting may drop during the day. Many businesses and services will open only after the Iftar meal around 9 pm and stay open to midnight or later. The good news is that the work day is shorter so non-Muslims too get to enjoy more time with family.

So how can non-Muslims thrive during Ramadan?

I am greatly moved by the sacrifice, hospitality and generosity of the Muslims during Ramadan, as well as during the year, and wish to join them during this holy month in sharing my abundance with those in need.
Adopt-A-Camp care package delivery to a labor camp.
For the last two Ramadans, while living in Dubai, I participated in the
Adopt A Camp
charity project. The first year we pulled together
3,000 care packages for the laborers
. The second year we delivered
5,000 care packages
to the labor camps.
This year, having arrived in Abu Dhabi only 3 months ago, I am organizing my own Ramadan charity project to bring a hot Iftar meal and a care package to the 200 men living in the labor camp across the street from our apartment on
Al Reem Island
. Two informal Abu Dhabi organizations,
Labor of Love
run by
Angel Wesley
and
Feel Great Helping
run by
Babs Klyn
,
have helped to make this project a success. Also, big thanks to
Tamquest Entertainment
for funding the meals and items for the care packages as part of their
Smile on Your Face
Ramadan effort.
The outpouring of generous donations has been amazing and you can help too. We will deliver the packages and meal on
Friday, August 2.
If you would like to contribute please email me katiefoster46@gmail.com and I will send you the information on the project. Deadline for donations is Wednesday, July 31.
To my Muslim friends I say, "Ramadan Kareem."
To my non-Muslim friends I say, "This Ramadan, join with your Muslim neighbors by reaching out and helping someone in need. To quote author John Holmes, 'There is no better exercise for the heart than reaching down and lifting people up.'"
Postscripts . . .
Ramadan Culinary Tour . . . my good friend Arva, Frying Pan Adventures, is offering a Ramadan "Sacred Sunset" Culinary Tour (from this link you need to accept the condition and then the info on the tour will come up). While her current dates are full she said if she had enough inquiries she would schedule more. This sounds like a really good way for non-Muslims to experience the Iftar breaking of the fast. Send her a message if you would like to join her.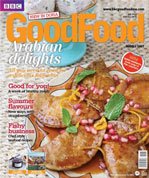 Healthy Tips for Ramadan . . . another good friend Holly, Arabic Zeal, blogger who was recently features in BBC's Good Food magazine, offers two great posts for Ramadan. Ramadan Recipes - What's cooking this month and 10 Goals for A Healthy Ramadan