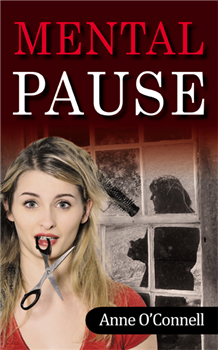 Do you think your menopausal searing hot flashes, tumultuous mood swings and nasty irritable behavior are bad? Nothing compares to the hell that Abbie experiences as she wades through a truly treacherous menopausal journey.
Global nomad, expat and freelance writer Anne O' Connell has written a "must read" novel for every woman experiencing or about to experience this dreaded "rite of passage."
Mental Pause
launches today, March 8th,
International Women's Day
. All proceeds from today's sales will benefit her favorite charity
Room to Read
that supports literacy programs in developing countries by building libraries, publishing local language children's books and providing scholarships for girls.
"It was one very sweaty, steamy night that spurred me on to write Mental Pause," Anne relates. "Even though the A/C was on, I was lying there in a disgusting pool of sweat and I did what any writer would do I hit keyboard and poured out my mad ramblings."
Then the idea hit Anne that it would be more fun if she turned it into fiction.
"It was really cathartic to write it," O'Connell claims. "No matter how bad I was feeling, how crazy my mood swings or wild my thoughts were, Abbie's were always worse!"
I highly recommend this really good read. Abbie's twists and turns through a truly catastrophic "change of life" keeps you guessing, "how much worse can this get?"
"Astonishingly honest, this novel will take you on a wild ride with its unforgettable protagonist, a woman who is on a journey of shocking self-discovery," said
Zvezdana Rashkovich,
author,
Dubai Wives
. "A book like 'Mental Pause' is long overdue and I am sure it will speak to millions of women who like me, identify with its message."
Buy your copy today . . . . it makes a great gift for your "sweltering, ranting menopausal BFF! And don't forget, all proceeds from today's sales will benefit Room to Read.
If you really like it, give it a review on Amazon and/or Goodreads. When you visit the Amazon page feel free to Tweet, Share and Like from there!