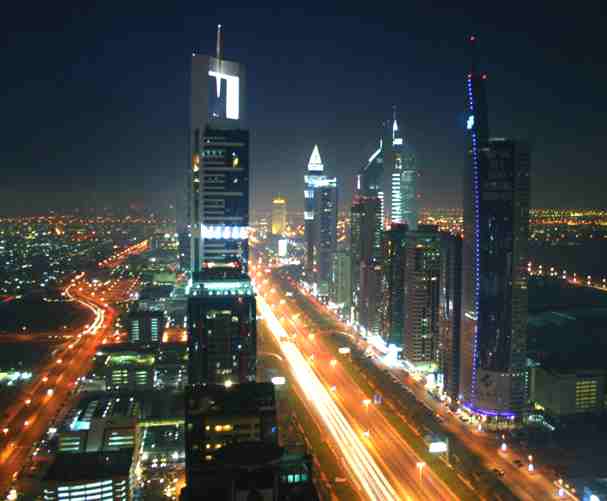 Photo: www.solarnavigator.net/geography/dubai.htm
Dubai
, UAE is the archetypal 'City of Contrasts.' Brash and flashy, and sometimes a little tawdry, a glimpse beneath this veil reveals a proud culture determined to retain its heritage while racing at breakneck speed to embrace the 21st century.
"I have a writing assignment to describe Dubai in 500 words using descriptive words and dialogue and I want to show the contrasts and tensions most visitors never see. Can you help?" I ask my expat friend Sara as we sip our coffee in the Mall of the Emirates.
"I'll make the list and you craft it into something the The New York Times will print," she declares as she whips out her writing pad and pen.
. . . Iconic sky scrapers soar like sentinels over sheikhs' private compounds guarding the fringes of the sweeping desert . . . Brazen foreigners clubbing til' sunrise compete with Muslims rising before dawn to perform their first
Salah
(prayer).
. . . The velvet roar of Ferraris and Lamborghinis on the infamous Sheikh Zayed Road vie with the
Imans
' (prayer leaders) mesmerizing call to prayer five times a day.
. . . Friday traditions of expats gorging themselves on expensive, groaning hotel buffets while Emiratis enjoy Arabic meals shared with extended family in the Majalis (meeting room) of their ancestral homes.
. . . Sweaty tourists in garish attire rival the pristine simplicity of Emirati robes – men in white - women in black . . . Looming, black-tinted SUVs race families down twelve lane expressways that overlook distant sand dunes where caravans of wild loping camels follow some mystical bearing.
. . . Hot, glaring sun rays reflect off soaring glass office buildings where today's business leaders toil while in the cool shadowed warrens of historic souqs merchants conduct their simple transactions.
"I remember the first time you took me to the souqs. I felt I was in a different country - so serene and peaceful. I love going on your adventures." Sara comments.
. . . American fast foods sate hungry expats while ethnic cafeterias soothe the multinational taste buds of laborers . . . Freshly paved roads disturbed by dizzy roundabouts and chasse destroying speed bumps parallel the old quarter's small streets congested with irreverent pedestrians and top-heavy lorries pulled by pajama clad Indians.
. . . The clanking of towering cranes at Mina Jebel Ali, the world's largest man-made harbor, unload containers from around the world to quench Dubai's insatiable appetite while at Dubai Creek unhurried dhows (Arabic sailing boats) arrive from neighboring countries with basic goods unloaded by hand at the creek-side wharfs.


"So, what is our next adventure? How about camel races?" Sara gleefully asked draining the last of her coffee.


"Camel races next week!" I promise as we part.

Ok . . those of you who have lived or currently lived in Dubai, leave me a comment on what I missed.


Postscripts . . .
Matador U . . .
the writing assignment is for a class on travel writing I am taking at Matador U "the online education center for Matador Network, the world's most-read independent travel publication and recipient of a Lowell Thomas award for excellence in travel journalism." Endorsed by National Geographic Traveler, I am hoping this is just the push I need to launch my travel writing career.
Weather Report
. . . I had some cool photographs I wanted to take for this post but the Dubai weather has interfered with that plan . . . we are on day 2 of a fierce sand storm that makes outdoor activities, let alone photo taking, a 'no go.' I will correct this as soon as the weather clears.